Onboarding to Office 365
Upcoming Exchange 2013 Retirement – Move to the Cloud!
Some large organizations may still be running a version of Microsoft Exchange in their datacenters. In the past I've ...
---
Some large organizations may still be running a version of Microsoft Exchange in their datacenters. In the past I've worked at large organizations that haven't had the time, or the business need to upgrade or replace versions of Exchange as they're introduced by Microsoft. Often organizations could be 2 or 3 versions behind the latest version. Why change what's not broken?
In around 9 months from now, an old stalwart version of Exchange will be reaching 'End of Support'. That's right, Exchange 2013 will reach the 'End of Support'.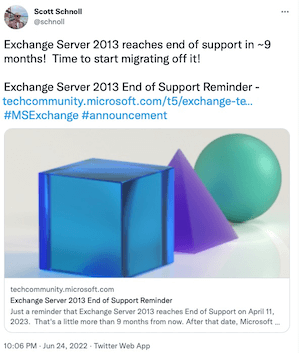 In this tweet at the end of June 2022, Scott Schnoll, reminds everyone of this impending date. While it is a few months way, time seems to race onwards in the IT world and before you or your organization might realize what is happening, you'll be at that point in April 2023 when support stops.
Is your organization affected by this announcement?
Some organizations might take the time now, and over the course of the next few months, to plan to move to another version of Exchange on-premise. But there is another way forward – migrate to the cloud, now!
Why not take the time now to think about, and plan a migration to Office 365?
As we've written about in other blogs, moving to the cloud is more than just copying the data from your on-premise environment to the cloud. Think about all those other activities that need to be performed in order to have a successful data migration to Office 365.
Does your organization need to enable personal archives?
Make changes to message sizes?
Migrate legacy archive data at the same time as live mailbox data?
Even when you consider the migration of legacy archive data that can be further broken down as we see here (where the legacy archive data is stored in Enterprise Vault):

At Cloudficient we have a lot of experience of migrating both live mailbox data, PST files, and legacy archive data to the cloud. With our cloud native technology we help organizations perform digital transformations and embrace the use of the cloud.
Reach out to us today to find out more.
Read more about the note from Scott Schnoll, here.
With unmatched next generation migration technology, Cloudficient is revolutionizing the way businesses retire legacy systems and transform their organization into the cloud. Our business constantly remains focused on client needs and creating product offerings that match them. We provide affordable services that are scalable, fast and seamless.
If you would like to learn more about how to bring Cloudficiency to your migration project, visit our website, or contact us.