Office 365
Does Microsoft Backup Office 365 Data?
In this blog, we'll answer the question of whether Microsoft performs data backups of your Office 365 data. It's an ...
---
In this blog, we'll answer the question of whether Microsoft performs data backups of your Office 365 data. It's an important question for you and your organization if you've just moved to the Microsoft cloud or if you're an organization that is considering migrating to Office 365 soon.
Does Microsoft Backup Office 365 Data?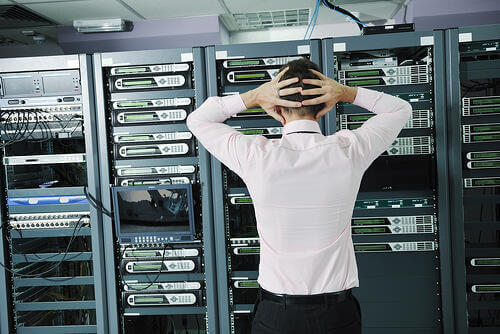 The answer to this is yes and no. Within Microsoft Office 365 you can recover deleted items. For example, if you delete an email, you can find it in the Deleted Items folder. You should be aware though those items are only kept in the deleted items folder for 30 days.
If 30 days have passed, it is worth noting that there is also an option in the deleted items folder to 'recover deleted items from this folder' where you can see emails that have been recently removed. Again, those emails won't be recoverable forever; it will depend on the retention settings your organization has enabled.
A last resort option for deleted emails is to ask your Office 365 administrator. As long as they have global admin access, they can recover deleted Office 365 items. But they will not be able to recover any emails purged from the recoverable items folder; those emails are sadly deleted forever and cannot be recovered.
These options are very user-centric and don't scale to a large organization needing to do a full-scale restore.
So above is the yes part of Microsoft backing up your Office 365 data, now onto the no part.
Microsoft does not provide backup for you; they recommend using a third-party backup. So, it is your responsibility to ensure your data is backed up and protected should anything happen, such as a breach or cyber-attack.
Microsoft does not back up emails that were deleted a long time ago; most emails deleted passed the 30 days are gone forever. Once emails have been purged from the 'recover deleted items folder', Microsoft can no longer recover them. If a mailbox is corrupted, Microsoft cannot help to recover any lost data, and this also applies to a cyber-attack or data lost during a migration.
Does Office 365 Need to be Backed Up?
There are many reasons to explain why it is essential that you back up your Office 365 environment:
Mistakes can happen due to user error,

Data may become compromised,

There might be a service outage.
You need to be prepared for all and any of these things to happen and ensure that your data is always protected and backed up.
Here are a few of the main reasons you should back up your data stored in Office 365.
Accidental Deletion of Data
In Office 365, there are two ways that data can be deleted – soft deletion and hard deletion. If data is soft deleted, it can still be recovered. However, if data is hard deleted, then it cannot be recovered.
Retention Policy Miscommunication
We discuss retention policies in this blog, but to recap, a retention policy is where you state which data you need to keep within your organization, how long it will be stored, and what will happen to the data once you no longer need to store it.
Retention policies can get complicated and hard to manage, especially in large enterprise organizations. The policy might be created by Legal, but the data is maintained by IT/ Marketing Operations teams, so there might be a disconnect between what data should be deleted and when. If data is deleted before it should be, but you have a backup in place, you can recover the deleted data.
Security Threats
You never know when you might be at risk from a possible security threat, and so you need to ensure that the organization's data is protected. These security threats are not just external such as malware or ransomware; some threats might come from within the organization. These might be accidental, such as an employee unknowingly downloading a corrupt file. But some threats can also be intentional, such as an unhappy employee deleting important documents or emails. If the data is not backed up and everything is permanently lost, that could have severe consequences for the company.
How is Office 365 Backed Up?
Native tools from Microsoft are not enough to ensure your organization is sufficiently secure and backed up. The best way to back up your Office 365 data is to use a third-party tool, which will provide you with a full backup and ensure your data is protected and truly secure should anything happen.
Here is what you can do with a third-party backup tool:
Back up your Outlook and OneDrive items, which include Calendars and Contacts.

Have better data retention options. The data can be stored for as long as you need for compliance reasons or to be used in the event of a disaster.

Have point-in-time data restore options; this means you choose the version you want to recover.

Separately keep your source data and backup data. Your backup data can be stored in the cloud of your choice. (We recommend storing your backups in a different cloud environment)

Have options to monitor data storage and usage.

Have the same folder hierarchy of restored data as in your original files; this means you can restore your items exactly to the folders they were deleted from.
Most third-back party backup tools offer the same protection for your Office 365 data, such as:
Exchange Online:

Mailboxes, Shared Mailboxes, Folders, Calendars, Contacts, Tasks, and In-place Archives

OneDrive:

All files and folders

SharePoint:

Site Collections, Document Libraries, Lists, Views, Permissions, Content Types, Columns, and Sub-sites Group

Teams:

Channels (including posts and replies), files, planners, tasks, calendars, Wiki, Team Sites, and more

Public Folders:

All messages and permissions
Is Outlook Email Backed Up Automatically?
If your organization uses Microsoft Exchange on-premises, your Exchange administrator is likely creating regular backups of your email. But then, as an end-user, you might want to create local backups of your emails. Microsoft shares how you can do that by adding data to PST files.
An end-user can also use the AutoArchive feature, which automatically sends older items to an archive. You can set how often it runs, where the archived items are stored and how long Outlook should keep the items.
There are two settings within the AutoArchive function, and either one or both will be actioned depending on the settings you have enabled.
The first is that items will be moved from their original location to an archive folder. The second is that the items will be permanently deleted if they have passed the aging period.
All Outlook items have an aging period, and once they exceed that time, they will be deleted in the next AutoArchive run unless you have specifically marked that item not to be deleted. The aging periods are below.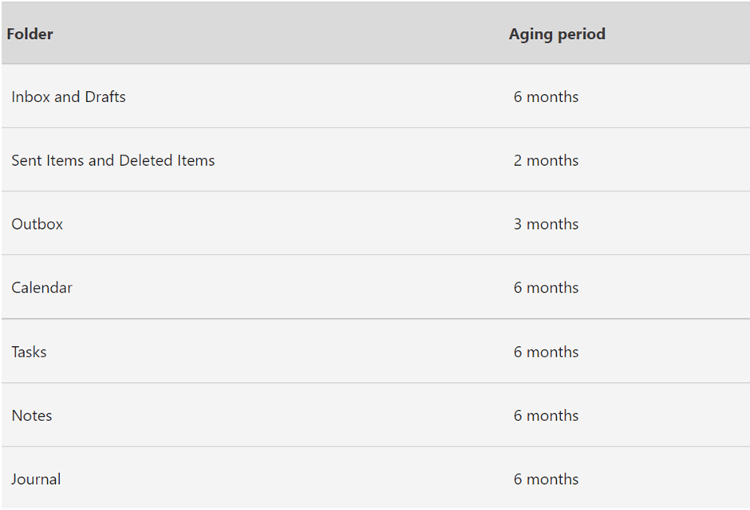 It is important to note that if you select to have the items permanently deleted, then they will not be archived as well. Also, if you choose to have the items archived, then they cannot later be deleted by AutoArchive; this will be a manual process.
The data you have in Outlook can also be exported manually and added to a .pst file. Then if you need to restore the data later, you just import the files.
Note: Your organization may have disabled the creation of PST files as the usage of PST files is considered a high business risk for many organizations.
For emails stored in Office 365 your IT team may have implemented a more robust mailbox records management policy. There is more information about these here. These can automatically move aged data into a users' personal archive (once it has been created.
In this blog, we've seen that Microsoft firmly puts data backups in your hands. They explicitly recommend that you backup data in the service agreement for Office 365.

Without adequate data backups of all Office 365 data, not just emails, important business documents are at risk.
Are you backing up your data in Office 365?
With unmatched next generation migration technology, Cloudficient is revolutionizing the way businesses retire legacy systems and transform their organization into the cloud. Our business constantly remains focused on client needs and creating product offerings that match them. We provide affordable services that are scalable, fast and seamless.
If you would like to learn more about how to bring Cloudficiency to your migration project, visit our website, or contact us.