Information Governance
How To Implement an Information Governance Framework
An information governance framework is vital in the modern business landscape, particularly within the legal sector. As ...
---
An information governance framework is vital in the modern business landscape, particularly within the legal sector. As the volume of data grows exponentially, organizations need a comprehensive and dynamic solution. A solid framework manages, protects, and utilizes information assets effectively within the organization. Governance provides the foundation, but implementation determines the results.
So let's dive into how to implement an information governance framework!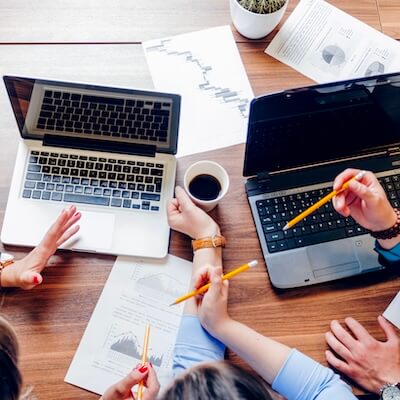 Table of Contents
What Is Information Governance Framework?
IGF is a holistic, organization-wide structure. It sets guidelines for handling, storing, and using information within the organization. It encompasses policies, procedures, and technologies. Organizations use this framework to manage and protect the company's information assets. It also ensures regulatory compliance, mitigates risk, and improves operational transparency.
What Are the Key Components of an Information Governance Framework?
When building a governance framework, organizations have a lot of data, strategies, and tools to choose from. Understanding each component increases the likelihood of proper implementation. These are the key components found in most robust frameworks.
Policy Development
Policy development is the process of crafting and implementing rules that guide the handling and management of data. This process involves the following steps:
Assessing organizational needs
Researching possible solutions
Consulting with stakeholders at all levels
Creating effective guidelines
A well-crafted policy upholds the integrity of the information governance framework. It also ensures consistency, compliance, and risk mitigation.
Data Quality Management
Data quality management focuses on data authenticity, accuracy, and validity. It covers the detecting, removing, and correcting of errors to improve data quality. Organizations need high-quality data to make effective decisions that reflect the organization's true position.
Data Retention Management
Data retention management outlines when to store data and for how long. It is important to keep data records, but organizations must also purge outdated data from their systems to free up space. Organizations must also abide by legal requirements affecting the data life cycle, such as GDPR and CCPA regulations.
Information Security
Data security is a primary component of an information governance framework. Organizations must ensure that their data is secure from unauthorized access or manipulation. This requires implementing encryption, two-factor authentication, and access control systems. It also involves the development of policies and procedures to ensure 24/7 security.
Compliance Management
Compliance management is necessary to ensure organizations stay current with the most current legal and regulatory standards beyond the initial implementation. This process includes auditing data, monitoring activities, and ensuring compliance. Organizations must also provide training programs for employees so they understand their role in upholding the governance framework.
What Is the Process for Implementing an Information Management Governance Framework?
Implementing a governance framework entails a systematic and well-structured process. It encompasses several steps, each contributing to the overall effectiveness and efficiency of the governance framework.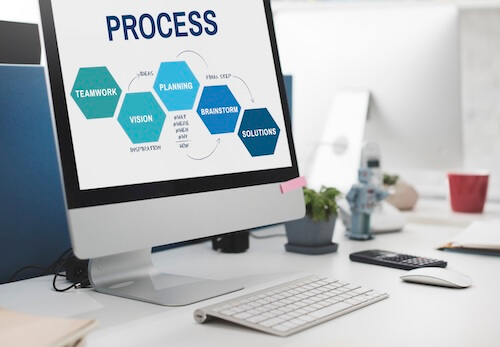 1. Define the Scope and Objectives
The first step is to determine the scope and objectives of the information governance framework. This involves assessing data, identifying stakeholders, and understanding the organization's needs for managing its data. It informs decisions later on in the process.
2. Establish Governance Structure
Organizations must establish a governance structure that outlines roles, responsibilities, and decision-making processes. This ensures proper governance framework implementation and clarifies internal and external responsibilities. This is crucial for shared responsibilities when using cloud infrastructure.
3. Develop Policies and Procedures
The policies and procedures developed must meet the organization's needs and objectives for information governance. These should cover data privacy, access rights, security measures, and retention policies.
4. Educate and Train Staff
For IGF to be effective, employees must understand their role in upholding the framework. This requires training programs that explain the framework's purpose and how it impacts their day-to-day responsibilities. Employees must also understand how using tools like Chat GPT can affect confidentiality.
5. Monitor and Evaluate Effectiveness
Organizations must monitor and evaluate the effectiveness of their frameworks regularly. This can include auditing data, running compliance tests, or conducting periodic reviews. Some companies conduct more offensive strategies, such as penetration testing. These steps ensure that the framework meets its objectives and promptly addresses risks.
What Are the Benefits of Implementing an Information Governance Framework?
Implementing an IGF yields many advantages that significantly enhance business operations. Understanding these benefits reinforces the importance of a structured governance framework and shows the value it brings to organizations.
Improved Data Quality
Improved data quality from an effective governance framework leads to more reliable and actionable insights for business decision-making. This, in turn, can boost operational efficiency, enhance customer service, and foster informed strategic planning.
Is your business archiving email data? Find out everything you need to know in our comprehensive article.
Increased Efficiency
Organizations that have implemented IGFs benefit from streamlined processes and improved compliance. This results in more efficient use of resources, shorter turnaround times, and fewer errors.
Better Decision Making
Having access to high-quality data allows for informed decision-making. Using accurate information, organizations can analyze customer trends, identify growth opportunities, and quickly respond to market changes.
Risk Management
Data security and compliance are top priorities for any organization. An IGF can help reduce the risk of data breaches, security lapses, and non-compliance with laws and regulations. This not only keeps organizations in good standing but also nurtures customer trust.
What Are Good Information Governance Framework Templates?
Companies often need an information governance framework example to start with. Your best is to use established frameworks. The right one for you will depend on your industry. The responsible agencies sometimes provide a governance framework sample in the form of PDFs, books, or checklists.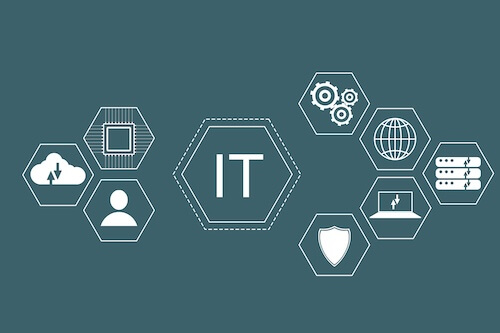 Review the following examples:
How Can Cloudficient Assist With Your Information Governance Framework?
Cloudficient does not create information governance framework samples or provide certification. Instead, we follow established frameworks relevant to your industry as we handle and transfer data during a cloud migration. Whether you work in an accounting firm's compliance department or run a healthcare facility's cybersecurity team, your data is safe during our migration process. Contact us to get a quote today.