Office 365
What Is Microsoft 365 E5 Compliance?
Microsoft 365 E5 compliance is a premium license for enterprise security. The E5 tier includes every E3 feature and ...
---
Microsoft 365 E5 compliance is a premium license for enterprise security. The E5 tier includes every E3 feature and offers additional security functionality. Organizations that need powerful tools to identify and monitor legal risks and assess compliance with regulatory requirements should select the Microsoft 365 E5 license. Learn about the features available on the E5 tier and how enterprises can use this license to manage sensitive data responsibly.
What Is Included in Microsoft 365 E5 Compliance?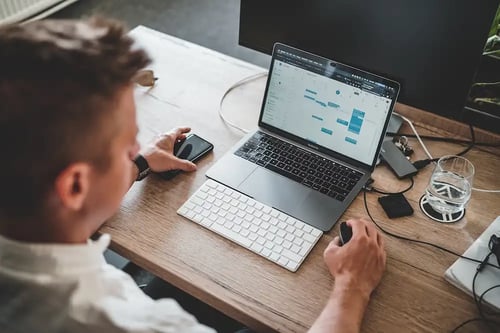 The E5 Compliance Suite for Microsoft 365 includes a wide range of tools for data lifecycle management including auditing capabilities, information protection and loss prevention. Administrators and authorized users on this tier have access to Microsoft Purview eDiscovery (Premium) for managing data in internal and external investigations and a wide range of other Purview features.
Use the Information Protection features in Purview to identify and secure sensitive data. Define and apply Data Loss Prevention policies to monitor, control and keep records of user activities that involve sensitive content. The E5 suite also offers industry-standard data encryption policy capabilities in addition to intelligent communication compliance features. Custom information barrier settings and privileged access management can be helpful for limiting insider risk.
Why Should Organizations Choose E5 Compliance?
Microsoft 365 E5 compliance is a useful choice for an organization that uses sensitive data in any aspect of its workflows. Information Protection features in Microsoft Purview make it possible to identify and protect sensitive information by manually or automatically classifying data. Encryption, loss prevention and lifecycle management functionality offer resources for responsible data use, transit and storage.
Enterprises that require more advanced email and Public Switched Telephone Network security solutions should select E5 tier licenses. This tier includes more functionality for discovering and protecting sensitive data, such as financial information or Social Security numbers, through Microsoft Purview. The analytics available on the E5 tier can promote responsible data management and reduce the risk of exposing sensitive data, while auditing tools are useful for facilitating regulatory compliance.
How Does M365 E5 Compliance Support Risk Management?
Microsoft Purview Information Protection enables administrators to classify sensitive data by type, either manually or with automated pattern recognition. The Data Loss Prevention functionality included in Microsoft 365 E5 compliance enables administrators to define and implement Data Loss Prevention policies by dialing in sensitive matching rules and defining retention labels.
Administrators can easily implement a simple Data Loss Prevention policy or use advanced settings to achieve more complete control over classification and compliance. With these and other features, all actions are recorded to the Microsoft 365 Audit Log and can also be routed to the Activity Explorer and relevant alert management dashboards. The Microsoft Purview Compliance Portal enables administrators to monitor every facet of data compliance from a central location.
What Are the Requirements and Pricing for Microsoft 365 E5 Compliance?
The Microsoft E365 E5 license is available as an upgrade for customers who currently have E3 licenses for Enterprise Mobility + Security, Office or M365. Microsoft E365 E3 license holders who need more security functions should consider upgrading to E5 licenses. Enterprises that license Microsoft 365 E5 compliance grant any users with this license access to a wider range of security and compliance features and premium versions of tools such as Microsoft Purview eDiscovery.
Microsoft 365 E5 is priced at $57.00 per user per month with an annual commitment. While each E5 license costs $21 more per user per month than each E3 license, the additional security functionality available at this tier justifies the cost for organizations that need to minimize exposure and mitigate risk. Some information technology experts suggest that only certain users need M365 E5 licenses based on the nature of their work and their role in managing the data and security standards of an enterprise. Other users can use M365 E1 or E3 licenses based on software and security needs.
How Can Enterprises Use M365 E5 Compliance Features?
The stakeholders responsible for data security at a company should assess how Microsoft 365 E5 compliance features align with data usage and security needs. The Microsoft Purview Compliance Portal presents users with a compliance score broken down into areas with current and remaining scores. This interface serves as a gateway for monitoring current levels of risk and taking recommended measures for increased security.
Authorized administrators can review active alerts and customize the navigation pane for easy access to relevant cards that report on security status in the Compliance Portal. The Compliance Manager offers pre-built and custom compliance assessments, breaks down improvement actions into detailed steps, and offers workflow capabilities for one-stop risk assessments.
What Is the Best Way To Implement Microsoft 365 E5 Compliance?
After upgrading to an E5 license, administrators can use Microsoft Purview to monitor and manage compliance. By following the step-by-step guides in the Compliance Manager interface, it is easy to take measures to control user permissions and enable logging for auditing purposes. An E5 license provides access to eDiscovery (Premium) and other tools for managing end-to-end workflows that allow for the review and retention of relevant data.
Cloudficient provides cloud migration solutions to enterprises of all sizes. Our next-generation enterprise transformation technology is changing how companies retire legacy systems and adopt the highest security standards with Microsoft 365 E5 compliance. By developing product offerings that meet our clients' needs, we can provide scalable migration services. Contact us to find out how Cloudficiency can facilitate your migration project.
With unmatched next generation migration technology, Cloudficient is revolutionizing the way businesses retire legacy systems and transform their organization into the cloud. Our business constantly remains focused on client needs and creating product offerings that match them. We provide affordable services that are scalable, fast and seamless.
If you would like to learn more about how to bring Cloudficiency to your migration project, visit our website, or contact us.