Legacy Data Challenges with Microsoft Purview?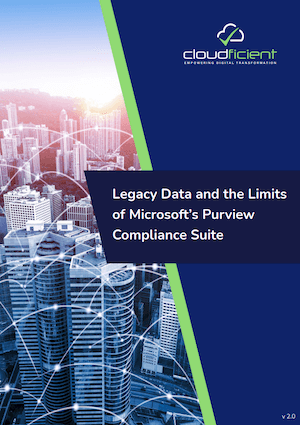 Legacy data and the limits of Microsoft's Purview Compliance Suite
In this white paper you'll find out about:
How Does Microsoft Purview Compliance Fit into The Office 365 Big Picture?
Keeping Purview Clean & Tidy
Keeping Purview eDiscovery Search Fast & Usable
Relying on Purview Without Becoming Dependable – The Alternative!
How Cloudficient Can Help
Complete the form to get your copy today!
You want to make Microsoft Compliance Center the focal point of your e-Discovery platform? You have come to the right place.
At Cloudficient we are experts when it comes to email compliance & migration
Microsoft Compliance Center Integration
Microsoft Exchange Journaling & Compliance
Microsoft Office 365 Onboarding & Migration
Intelligent data retention and right-sized e-Discovery of mail data
With Expireon, we also provide an intelligent retention platform especially for Microsoft Journal data, that is intelligent, and cost effective.
It directly integrates with Microsoft Compliance Center, so you can easily discover the data from your legacy archives or keep your journal infrastructure in place.
To give you the right information, select what you would be most interested in
Why Expireon is Important to You
Review the use cases and guides below to see how Expireon can help your organization.