Upcoming Quest Archive Manager Migration?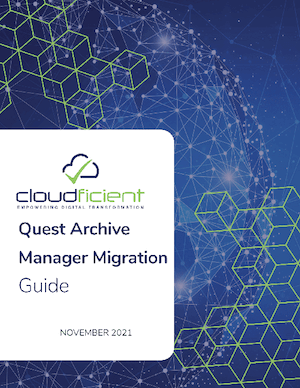 Quest Archive Manager Migration Preparation Guide
In our guide you will find:
A review of the top 5 things to consider when migrating from Quest Archive Manager to Office 365





How you might approach your migration without the use of third party solutions





Limitations and challenges of going-it-alone





What the archive migration competitive landscape looks like





Why performing an archive migration is more than just migrating the data
Thinking About Migrating Quest Archive Manager?
Cloudficient has put together some useful videos around key things to consider, the migration software landscape, and latest trends - take a look and let us know
if they were helpful!
Top 5 Things to Consider when Migrating Archives to O365
A high level overview for how to approach an Enterprise Vault migration. The same things apply to Quest Archive Manager archive migrations. (6 mins, 41 secs)
Generations of Archive Migration Solutions
An overview of solutions categorized into a generational timeline. The examples discussed relate to Enterprise Vault, but they also apply to Quest Archive Manager. (4 mins, 5 secs)
Hear What Our Customers Think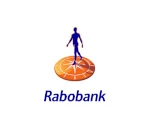 "It was the flexibility of the solution that delivered such exceptional value, coupled with the scale of what we were able to achieve with limited project resources"
Jacob Kralt, Rabobank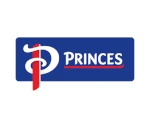 "We selected Cloudficient as our migration expert of choice due to their personal approach, adaptation to our unique issues and the resulting bespoke solution offer."
Tim Johnson, Princes Group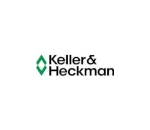 "Cloudficient's approach was professional, efficient and understanding of our problem. From the onset of our project they instilled confidence that they understood the technology, situation at hand and communicated with us during each step of the way."
Robert E. Mirowicz, Keller & Heckman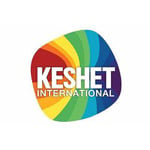 "We selected Cloudficient as our migration partner after doing a proof of concept with their solution, with our users, and in our environment. The results were exactly as we required and they promised!"
David Meer, Keshet
Why consider Cloudficient to help with your project?
Industry Leadership
Cloudficient is a Microsoft Gold partner with over 100+ years of team experience; Founders architected other leading archive migration solutions
Unmatched Technology
The only next generation & pure cloud born migration technology on the market
Enterprise Ready
Pure cloud solution requires very minimal on-premise infrastructure – other solutions typically have a significant hardware footprint
Enterprise Secure
Deployment architecture ensures migration data stays within secure organizational boundaries
Complete Scope
Workflow-based solution covers entire Office 365 onboarding process end-to-end
Guaranteed
Will prove our QAMComplete solution prior to purchase, at no cost and without commitment –Always do a Proof of Concept!
Flexible Fixed Price
Pay up front (CAPEX) or as you migrate (OPEX) pricing
Fixed Outcome
Dedicated delivery team from start to finish to ensure a successful project