Get Your Free Guide Now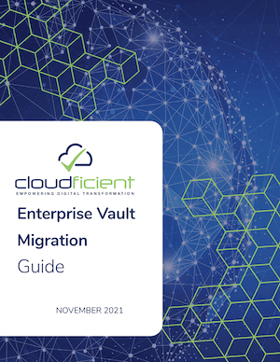 In our Enterprise Vault Migration Preparation Guide you will find:
A review of the top 5 things to consider when migrating from Enterprise Vault to Office 365

How you might approach your migration without the use of third party solutions

Limitations and challenges of going-it-alone.

What the archive migration competitive landscape looks like

Why performing an archive migration is more than just migrating the data




Cloudficient has put together videos around key things to consider, the migration software landscape, and latest trends - take a look and let us know if they were helpful!
Microsoft Service Protection Throttling
New for 2021, something anyone with a migration project to Office 365 should be aware of (4 mins, 52 secs)
Watch MJ explain how Cloudficient found out about service protection throttling and how it impacted the migration speed.
He'll also share with you real data about the migration speed for a particular customer before and during service protection throttling as well as the migration speed after we implemented some code changes to eliminate the effects of service protection throttling.
Why consider Cloudficient to help with your project?
Industry Leadership
Cloudficient is a Microsoft Gold partner with over 100+ years of team experience around Enterprise Vault; Founders architected other leading archive migration solutions
Enterprise Ready
Pure cloud solution requires very minimal on-premise infrastructure – other solutions typically have a significant hardware footprint
Enterprise Secure
Deployment architecture ensures migration data stays within secure organizational boundaries
Fixed Outcome
Dedicated delivery team from start to finish to ensure a successful project
A fully automated move from Enterprise Vault to Office 365
EV Complete automates and orchestrates all necessary process steps to target the different internal or Office 365 Workloads – Exchange, File Servers, SharePoint or OneDrive – as a target for your Enterprise Vault system that you wish to retire.
With EVComplete you resolve dependencies and progress each user individually through the process. Reduce labor intensive processes and save time.
Related Cloudficient Blog Posts
Take a look at our related blog posts for insights on the latest in business transformation, migration and Office 365.
Get Your Free Guide Now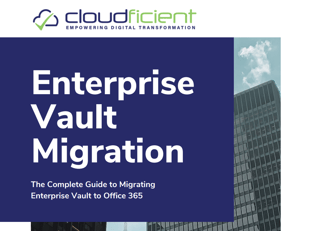 In our Enterprise Vault Migration Preparation Guide you will find:
A review of the top 5 things to consider when migrating from Enterprise Vault to Office 365

How you might approach your migration without the use of third party solutions

Limitations and challenges of going-it-alone.

What the archive migration competitive landscape looks like

Why performing an archive migration is more than just migrating the data