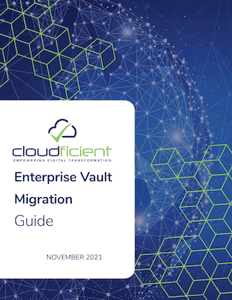 Enterprise Vault Migration Preparation Guide
In our Enterprise Vault Migration Preparation Guide you will find:
A review of the top 5 things to consider when migrating from Enterprise Vault to Office 365





How you might approach your migration without the use of third party solutions





Limitations and challenges of going-it-alone





What the archive migration competitive landscape looks like





Why performing an archive migration is more than just migrating the data
Enterprise Transformation
With cloud platforms handling a majority of infrastructure needs, a growing focus is managing the movement of business data throughout the enterprise lifecycle.  This includes everything from cloud onboarding, compliance migrations, or expiring legacy data, to restructuring events like mergers and acquisitions. 
Cloudficient orchestrates these transitions, handling complex enterprise transformation scenarios as a business process, end to end with cloud native technology.